An Interview with Katharina Siemeling (D.O.P. of INTRUDER)
Interview conducted by Sam Alan (lead actor)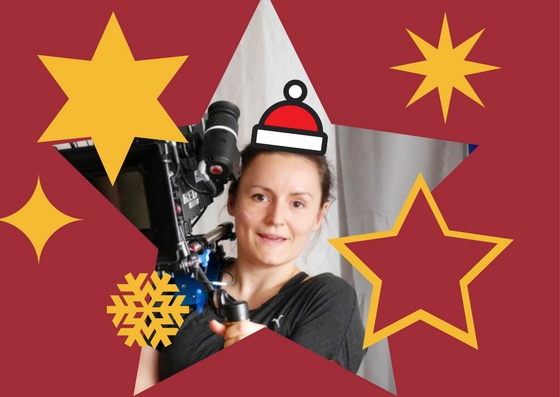 How has your summer been?
Great. A lot of work. Creativity wise I have done some photoshoots and small projects but also catching up with some paid work which I've left out for a long time…
Has Intruder been a hot topic of discussion since?
We do AVA calls weekly to keep in touch with everyone. It's also nice to be forced into doing it as it's a great means of support for everyone. Sometimes in my imagination it's like, were all shooting this movie (!!) and then suddenly were not, because there was no communication anymore so whenever something happens with Intruder i'm so happy.
Looking back on the shoot, did you learn anything about yourself?
I think what I learned about myself is a whole new awareness. For instance, now, I feel I have a whole set of skills I don't need to question anymore. I feel much more confident on the technical side which means I can cooperate with people more confidently. All my insecurities prior feel tiny to me now.
Is there anything you would do differently next time?
Yes. My biggest insight was that a camera team DEFINITELY needs a gaffer. The importance is now clear to me; I will never try to do both again. I am very much looking forward to working with most of the same team again because one of things I think makes the process more easier is the communication before shooting. More preparation time!
I also realise now, as Stanley Kubrick said, "the best thing that young filmmakers should do is to get hold of a camera and some film and make a movie of any kind at all." So it's just about making and learning as you go. It makes so much sense to me now. Even though we prepared you can never really know if you've prepared enough.
Another thing I learned; after the shoot I felt very distant to everyone because I was always looking through the lens of the camera figuring how it might look and afterwards I had this feeling I hadn't really spoken to anyone properly, so next time, I would like to take more care of myself. I knew everyone around me but I felt I hadn't really talked to them. I mean, many of them were already close friends of mine but afterwards I really enjoyed catching up with everyone. 
Was there anything you were particularly anxious about?
I was nervous about the storyboard. Every morning. Every morning I would get up early and just think "Oh my god I have to have ideas! I have to make this work now!" And then luckily I got into discussions with Max and Jonathan which released the pressure I put on myself, and I was very grateful to be able to talk to them. I was also very nervous about all the technicalities I had to figure out in that short time. Also, if it wasn't for the amazing people on our team like Lena and Sandy who somehow always managed to keep everyone on set happy and offer assistance, I would have been totally nervous about making the actors uncomfortable. 
Did anything surprise you?
In a very positive and fulfilling sense, there were these moments when we had to say goodbye to people throughout the shoot, and no matter how exhausted or concentrated we were, everyone forgot what they were doing for a moment whilst we celebrated the end of someone's journey. 
I really liked these moments. This moment of release. 
Do you have a favourite memory?
Yes! When Timo left the set thinking it was a break and came back twenty minutes later with an ice cream. It was the loveliest thing when he came back completely unaware, and ended up holding his ice cream in one hand and the boom in the other! I'm also really proud of how I figured out the whole shoot with Jonathan, but another favourite moment, when there were three of us, I really felt I could cooperate in such nice way when we figured out the storyboard in one of the earlier shoots outside of Alex's front door. We made up the storyboard in about half an hour as a team and it was such a fluent process of making up the pictures. We would talk about it and I could see it, then I would respond to it, and really through that cooperation between the three of us in the camera department, I learnt so much about the process. That collaboration is how I would like to work in my future productions.
Do you have a favourite scene?
Mm, there were several. I mean, it was kind of fun to see the process in the making of a romantic scene and that kind of sensibility in the movie. But I think my favourite scene was the aforementioned outside scene. Another scene I found really fulfilling was in Felix's bedroom, in particularly when Felix is on his laptop and Isabella joins; I really loved the picture and the cinematic look. I also liked shooting from the ceiling in Alex's house; it's quite a serious scene so i'm looking forward to how that will be put into the structure of a comedy film. I like the contrast of it. 
What are you most looking forward to in 2018 (apart from Intruder)?
First thing I am doing is going to South Africa and meeting a lovely friend of mine I have known for ten years. I will be there for two weeks trying not to be eaten by an animal *laughs* Secondly, the annual presentation of my project at art school. It should be a lot of fun this year because we are doing a group project, and not to give too much away, it may contain dancing…*laughs*…yes, performance is actually something I would like to do more of. I also promised myself to make this one commitment that I would use this year to concentrate on my artwork which means really focusing so I can finish my studies in 2019. I am actually planning on doing a movie for my exams so I would need a lot of preparation for that. Lastly, I am applying to go to Bologne for the erasmus programme to hopefully study abroad for a year. New things, new places, new people, it's all about the experience. 
Finishing words…
I'm still so impressed and so proud that we did this movie in a week and that we have something to really show off, to really go on with, to show people that we have this movie now, and that we work as a team, and functioned as a team in a week, and we didn't necessarily know each other before. That is still something I am so proud of and at the same time, it's about making mistakes, and just learning, and having fun. I am very very open for doing the next movie on that basis.